on Sun Apr 22, 2018 12:45 pm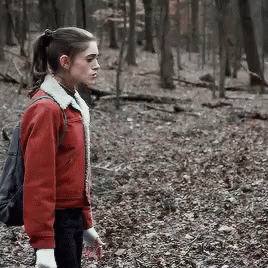 Aurelia Fairchild had been wandering around camp. She came up on the weekends sometimes since school was almost out and she would be returning to camp again for the summer. It had been some time since she had gone on that quest with Dominika, Dimitri, and Niko. It was still hard to process at times, but Lia tried to push it away from her mind. Being out near the forest was probably the best place for her besides the beach to try and get away, but given the sunny day it looked rather crowded down that way.
Lia was walking in the forest listening to the birds and the wind shift the tree branches a little bit, when something had caught her eye. It was a piece of red clothing which in general red wasn't a common colour you seen in the mixture of the earthy colours of browns and greens. Sometimes you could see cedar trees that had more of a red colour to them, but cedar trees weren't popular in these parts. She followed the piece of red clothing that was moving in the wind before she grabbed it, surely this belonged to someone, right?
The rainbow haired girl continued to look around, and she could see something white caught in the bush int he distance, her assumption was either socks or something of the sort. Lia was curious as to what had happened here and why there were clothes everywhere, she was also curious to know if she'd find the source of it.
on Sun Apr 22, 2018 1:02 pm
Noah didn't spend a lot of time in the forest, she liked spending most of her day on the beach. Where the natural wind of being near water made it easier for her to practice her own wind powers. In the forest, so many trees blocked the wind like there was obviously wind, it just wasn't as strong as she would have liked it.
But right now she wasn't playing around with her powers, right now she was just bored and hadn't been able to find any of her friends. She had actually meant to just stop at her cabin, but she had started day dreaming at some point, and now she cursed herself as she realized she had walked down the wrong path. How long had she been here? Way too long to be taking the wrong path, that's for sure.
The girl, looked around. She wasn't too deep in the forest that she was lost or couldn't turn back now. And for half a second turning back had definitely been her plan. That was, until she saw a light pink color on a bush. Now, Noah wasn't the greatest at knowing different types of plants and stuff like that, but she was pretty sure that color didn't belong to the bush. She walked up to it, and picked it up. It looked like a piece of clothing that had been ripped off a shirt, either on purpose or on accident, she couldn't tell that part. Noah looked up from the cloth and looked around her surroundings again, wondering if there was anyone near by.
_________________
Liam Davenport, Sophia Virgo, Luke Avery,
Noah Parker, Silas Julius, Ensley Kate Daniels, August Nolan, Jackson "Jacks" Radcliffe
on Sun Apr 22, 2018 2:03 pm
The rainbow haired girl continued to walk through the forest until she got to where she found the white sock and she picked it up. Lia wasn't too far into the forest still and she wasn't sure how deep this would go or if there was even anymore. It took some time of scanning the area before she started to walk further. As she made more distance and covered more ground she could see a blonde in the distance who she began to call out to.

"Hey!" She called out as she began to run over to her. When Lia got closer she noticed that the girl was holding a pink piece of material and her eyes looked back and forth between the two until she looked up to the girl again, "Are these yours?" She asked and held them a little bit so that the other girl could see them. Lia had never met this girl before, but she was positive that she had seen her around camp every now and then.

"I think there's more of them deeper in the forest." Lia also commented as she looked that way, she was curious still if this was a coincidence that a few clothes had gone missing or not. It didn't feel like one, it seemed like someones suitcase had just blown up in the forest, no doubt the nymphs around were probably upset with that.
on Sun Apr 22, 2018 2:14 pm
Noah couldn't help but give the girl who basically showed up out of nowhere an odd look. Did she really just ask if all the missing clothing pieces were hers? Really? "No... they aren't mine..." She told the rainbow haired girl. Noah wasn't sure if she knew who this was, she basically knew everyone in camp, since she lived all year round, and she was sure she would have remembered someone who happened to have rainbow colored hair. But the daughter of Notus was drawing a blank on this kid.

"Why would you want to find out if there's a naked person running around the forest?" Noah finally asked, genuinely confused as to why someone was purposely trying to find the missing pieces of clothes.
_________________
Liam Davenport, Sophia Virgo, Luke Avery,
Noah Parker, Silas Julius, Ensley Kate Daniels, August Nolan, Jackson "Jacks" Radcliffe
on Sun Apr 22, 2018 3:38 pm
When the girl in front of her had started to question why she was looking for a naked person the girl with rainbow hair was confused. Why would she be looking for a naked person? That didn't make sense. Maybe that was just the way this girls brain worked and there was nothing wrong with that. She took a deep breath in before explaining herself, "I was just taking a stroll in the forest and I ended up finding this red shirt." Lia said holding up the red shirt before she continued speaking, "Then I noticed this white sock, and my thought wasn't that someone was naked out there, so I'm not looking for someone who is naked, it just seems out of place that there's all these clothes everywhere. What if someone is in trouble? What if someone got lost?" Finally she paused to take a breather from her long winded ramble.

"You can stay here or leave and do whatever you think you have to do, but I need to solve this for my own peace of mind." Lia confirmed and waited to see what this girls response would be. The daughter of Hestia was worried about someone being in danger, especially after coming home from her quest.
on Mon Apr 23, 2018 7:58 pm
Noah was now thoroughly confused. Where she was from, if you happened to find clothes in the middle of a forest, it didn't usually mean someone was in trouble. It meant they wanted to be alone... or maybe they just didn't understand how a dumpster works.

"I don't think a lost person would take their clothes off..." Noah finally said, after listening to the girl. Actually the daughter of Notus was fairly certain taking off their clothes would never happen if someone was lost. It just didn't make sense in the art of survival.
_________________
Liam Davenport, Sophia Virgo, Luke Avery,
Noah Parker, Silas Julius, Ensley Kate Daniels, August Nolan, Jackson "Jacks" Radcliffe
on Tue Apr 24, 2018 7:41 pm
When the daughter of Iris listened to the girl in front of her, she realized that what she was trying to get across to the girl in front of her wasn't happening. There was a little bit of frustration, but she had remained calm and she was going to explain this a little better somehow.

"No, I don't think these clothes are here because someone took them off. There's too many of them scattered around, I think maybe there's a suitcase or something that got spilled open that shouldn't have? I don't know for sure, but that's what I'm thinking." The girl with rainbow hair tried explaining a little better before she remembered something.

"Oh!I'm so sorry!" Lia said with a bit of a gasp before she started to speak again, "I've been incredibly rude, my apologies, my name is Lia, I'm usually a summer camper, but I come around on weekends every now and then."
on Fri May 04, 2018 3:57 pm
"I'm Noah." Noah answered, "year rounder." Noah looked around, the only article of clothing she had found was the pink top in the bush. She couldn't see anything other articles except for the ones being held in Lia's hand. Maybe there was more clothing in the area Lia had originally been in before she had come over here? Noah wasn't sure, but she didn't think there would be any point in trying to investigate.
_________________
Liam Davenport, Sophia Virgo, Luke Avery,
Noah Parker, Silas Julius, Ensley Kate Daniels, August Nolan, Jackson "Jacks" Radcliffe

Permissions in this forum:
You
cannot
reply to topics in this forum